Introducing Bluefin's Trade and Earn program, a new initiative that rewards our trading community members for their engagement and contribution to the exchange.
This program initiates Bluefin's move to a DAO structure, with decentralized ownership and governance, as well as our commitment to delivering value to traders.
In the coming weeks and months, we'll launch additional growth programs, including a Maker Rewards program to boost market liquidity and substantial BLUE Rewards allocations for past, present, and future liquidity programs.
We look forward to sharing more details about these initiatives and rewards soon!
Allocation of BLUE Rewards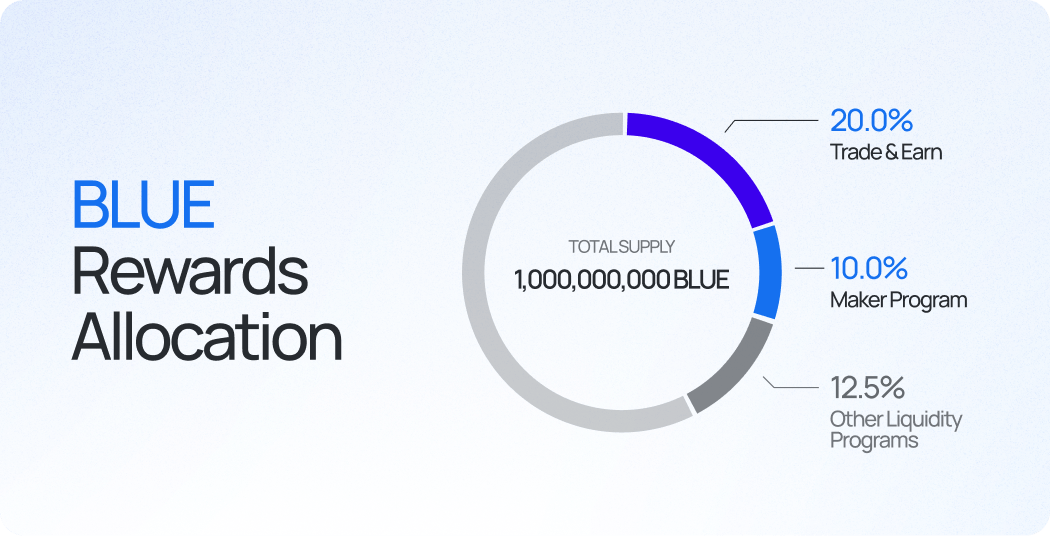 The Bluefin Foundation has assigned 20% of BLUE Rewards to the Trader Rewards Pool (TRP) for distribution through the Trade & Earn program.
The foundation has also allocated 10% of BLUE Rewards to the Maker Program, and 12.5% of BLUE Rewards to other liquidity programs, including future programs, as well as current and past early adopter incentives.
Trade & Earn Program Parameters
All Bluefin Exchange traders are eligible for this program. Rewards are distributed every 21 days (an epoch) over five years, with no vesting or lockups. A one-week waiting period follows each epoch to allow the community to disqualify wash trading addresses.
Rewards Formula
The rewards from the TRP will be distributed to traders according to the formula


where

- individual qualified trader and where, for each epoch, - BLUE rewards for trader - Trade & Earn Reward Pool - fees of trader - the sum of all fees of all qualified traders
About Bluefin
Bluefin is a blockchain protocol for perpetual swaps that combines self-custody and transparency with best-in-class speed and security. Bluefin Exchange is a decentralized, high-performance order-book-based exchange that offers advanced strategies, intuitive UI, liquid markets, and efficient APIs. Bluefin is accelerating the onboarding of professional, institutional, and novice traders to decentralized markets. Please view our terms of use and privacy policy before accessing the platform.
Important Disclosures: i) The platform is not available to residents of United States or Canada
ii) All assets on Bluefin involve a degree of risk and may result in partial or total loss of your investment