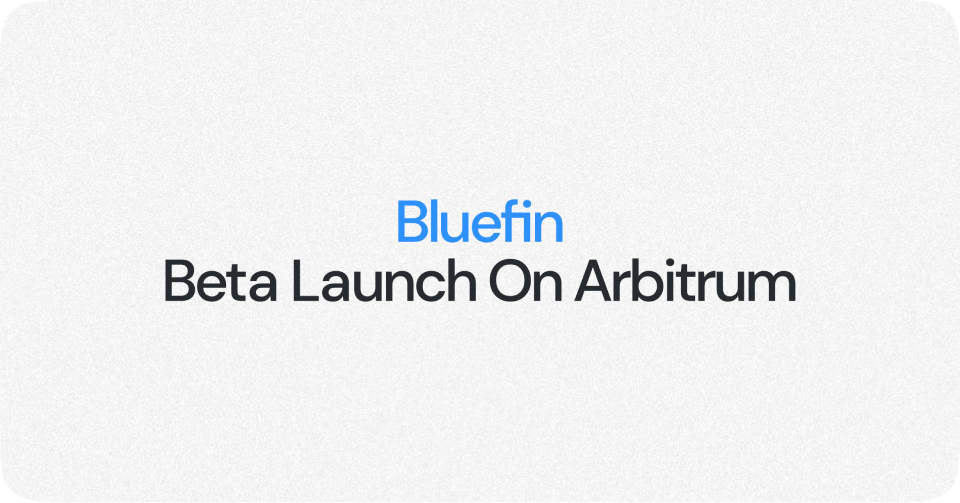 We're excited to announce that Bluefin Beta is now live on Arbitrum!
Bluefin is committed to providing a trading platform that uses the most innovative decentralized infrastructure to support both first-time users and professional traders. With a select group of professional firms already integrated, we are excited to bring Bluefin to the Ethereum ecosystem!
Beta Launch
In order to ensure we always deliver the best trading experience, we're kicking things off with a guarded launch of Bluefin Beta to our Ambassador and Trader Alliance members. Our Bluefin members are critical to empowering the voice of our community and driving our product innovation, providing feedback directly to the team. The Beta Release on Arbitrum will first be accessible to a subset of our community members, and from there, we'll ramp up to a full public launch towards the second half of February!
Apply for Early Access
For early access to the Bluefin Beta on Arbitrum, please answer a few short questions here. Whitelisted users will have access to the exchange 24 hours before the Public Launch. Once the Guarded Launch phase is complete, we will launch Bluefin Beta publicly on Arbitrum.
Apply for 24hr early access to our Arbitrum launch
Apply for 24hr early access to our Arbitrum launch
Start trading on Bluefin 24hrs before the Public launch
It's been an incredible journey building Bluefin from the ground up, and we are excited to announce this next step in our journey with you. We look forward to sharing more as we continue to build the next stage of Bluefin's development!
The Bluefin Team