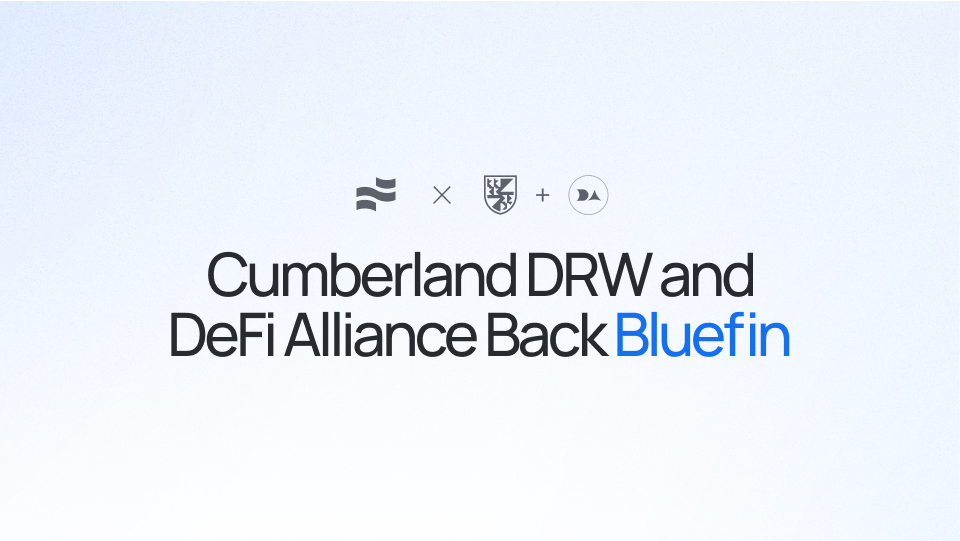 We're thrilled to welcome Cumberland DRW and DeFi Alliance to the Bluefin team. Cumberland DRW is a digital asset trading company within DRW, a proprietary trading firm, and the DeFi Alliance is a member-based international trade association with the likes of Jump Trading, CMT Digital, Susquehanna (SIG), and Mark Cuban. Cumberland and DeFi Alliance will be supporting Bluefin in building highly liquid derivative markets in a regulation-compliant way.
As one of the largest crypto liquidity providers in the space, Cumberland will be an invaluable partner to Bluefin. "It's exciting to see Bluefin bring a transparent, efficient and elegant solution to the derivatives market, which will support the surge in demand we are seeing in both traditional and cryptocurrency markets," said Brian Melville, Head of Strategy at Cumberland DRW. "The type of decentralized exchange protocol created by Bluefin is necessary to bring a more significant portion of market share to on-chain venues, and we believe this product's focus on interoperability has the potential to better capture the currently fragmented liquidity in the markets."
DeFi Alliance has also invested in Bluefin and will provide Bluefin with access to institutional liquidity and regulatory support. The Alliance has already partnered Bluefin with six market makers from Chicago and Singapore that collectively process over US$22Bn in daily volume on centralized exchanges, and continues to support Bluefin through its accelerator program. "Derivatives trading represents one of the largest opportunities in DeFi and the Bluefin team is the first to bring it to the Polkadot ecosystem. We are excited to back Rabeel and team as they bring their product to the world's largest trading firms" says Imran Khan, Founder of the DeFi Alliance.
Derivatives are the largest asset class in traditional finance and derivatives will soon become a pillar of DeFi with the recent advances in throughput on blockchain technology. We are grateful for the support of institutional liquidity providers, leading exchanges, and world-class investors who will help us in launching an institutional-grade derivatives exchange later this year.
If you are interested in trading perpetuals, options, or learning more about Bluefin, then please join the growing community on Discord, follow the Telegram announcement channel, and sign up for updates at https://bluefin.io.
Disclaimer: The products available on Bluefin are not available for use by US Persons or residents of any country or jurisdiction subject to US sanctions.
- Bluefin

Website: https://bluefin.io
Twitter: https://twitter.com/bluefinapp
Telegram: https://t.me/bluefinapp