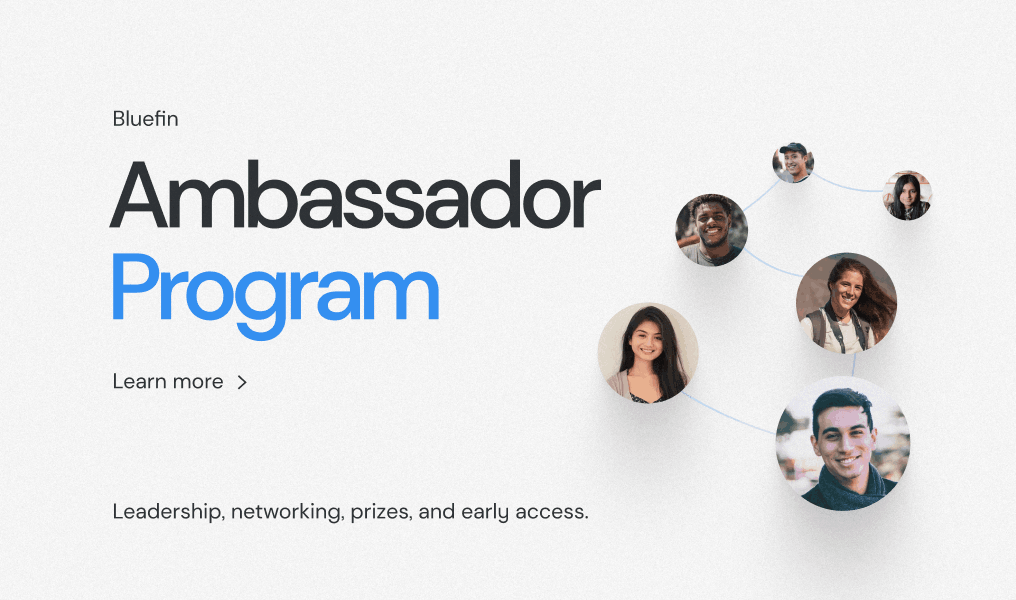 Bluefin is thrilled to announce the launch of our ambassador program. The ambassadors will empower the platform's development by spreading awareness in their local or online communities, helping test the user experience, creating tutorials, and many more. Whether traders, developers, or non-technical enthusiasts, the expanding group of ambassadors are all driven by the same ambition to actively contribute to the success of Bluefin. Above all, we are united in the goal of building a friendly, collaborative community where everyone can grow and learn.
Who can join the Bluefin Ambassador Program?
The Ambassador Program is for anyone who wants to play a significant role in bringing Bluefin to the world. Ambassadors enjoy learning about decentralized finance and blockchain innovations and like sharing their knowledge and experience with others. They typically specialize in one of the following areas: Social Media, Content Creation, Graphic Design, Translation, and Software Development.
Technical Ambassadors contribute to developer resources, documentation, and build third-party applications.
Creative Ambassadors create and translate content, written and graphic, to communicate the Bluefin vision and product.
Community Ambassadors promote awareness, host local meetups, educate others, and grow the community.
Community Ambassadors promote awareness, host local meetups, educate others, and grow the community.
As an ambassador, from the beginning, you will have the chance to write the next chapter of DeFi by contributing to the success of Bluefin. Bluefin Ambassadors are at the core of the community and realize the vision for Bluefin alongside the team. They share their voice to help guide the development, use social media to boost awareness, create graphics, and help educate others.
The benefits of becoming an ambassador include:
access to a private ambassadors-only group
invitations to meetings with the core team and other ambassadors
direct line to the Bluefin team and ecosystem partners
involvement with the direction of project development
connecting with like-minded people
leadership opportunities in local communities
exclusive access to events, products, bounties, early participation programs, and much more
Complete the application form to become a Bluefin Ambassador if you're ready to begin the journey. We're looking forward to meeting you!
Disclaimer: The products available on Bluefin are not available for US Persons or residents of any country or jurisdiction subject to US sanctions.
- Bluefin