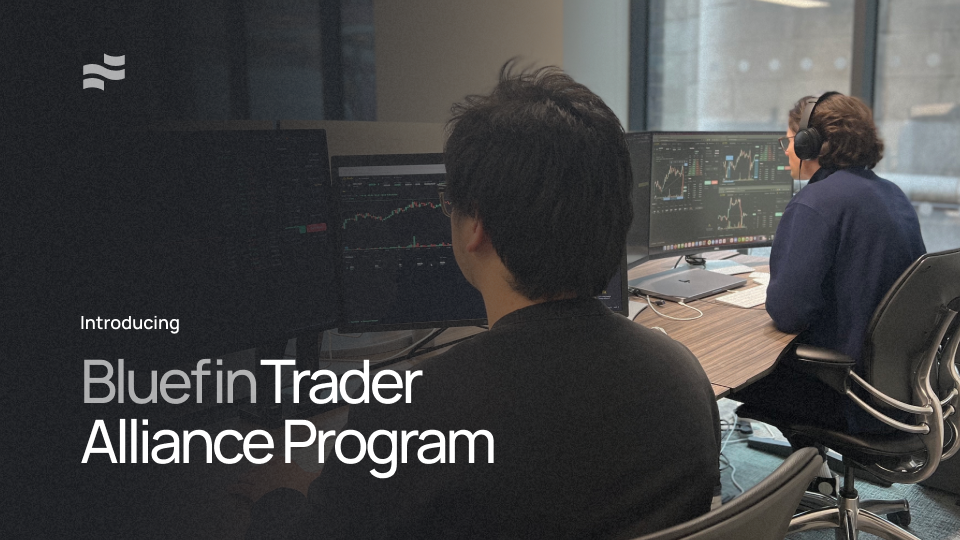 Bluefin is excited to announce the launch of the Bluefin Trader Alliance. The Allies will form a group of early-supporter traders that will become Bluefin's first adopters. The team and the ambassadors will provide all necessary technical support to help the Bluefin Trader Alliance onboard onto decentralized perpetuals trading. The purpose of the program is to attract organic and consistent trading activity to Bluefin Mainnet.
The Bluefin Foundation will allocate a part of the total token supply over the program's length exclusively to the Allies. These rewards will be additive to the Trade & Earn program open to all traders once the governance votes it in. Trader Allies will have a chance to win an exclusive NFT that could, subject to governance approval, grant the holder special status, privileges, and rewards.
Become a Bluefin Trader Ally
Be an early adopter and push the limits in decentralized derivatives trading
Earn exclusive early-supporter token rewards
Secure a trading fee discount (10%)
Get the Ally NFT with privileges and rewards
Receive full technical support from the Bluefin team and ambassadors
Rewards and benefits are subject to governance approval
How to Join Bluefin Trader Alliance
In the application, please provide:
Trade history from a centralized exchange(s): a screenshot of at least 1 perpetual swap trade + centralized exchange name

AND/OR

Trade history from a decentralized exchange(s): wallet address + decentralized exchange name
Timeline
April 12 - April 26, 2022: Accepting applications for Bluefin Trader Alliance
Pre-Mainnet: Optionally, traders will have the opportunity to stress-test the exchange before & around the mainnet launch
Mainnet: Start of Bluefin Trader Alliance exclusive incentives, additive to the Trade & Earn rewards
Complete the application form to join the Bluefin Trader Alliance by April 26.
Complete the application
We're looking forward to meeting you!
*Anyone can join the Bluefin Trader Alliance! However, token allocations are limited to only non-US persons. Wash trading will be flagged and investigated.